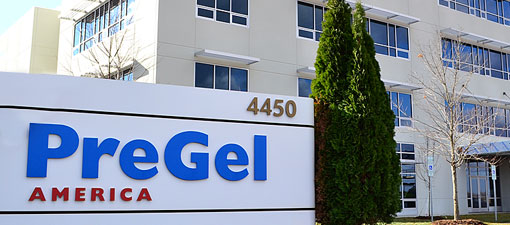 There was a definite international vibe happening at the PreGel visit on the Advancing Edge Fam Tour. While sampling gelato from the Italian-based company, guests had a spirited discussion about the difference between "y'all" and "all y'all" with Subsidiaries Manager Jeannette Pantani, who speaks five languages.
Sweet treats and getting schooled in southern sayings was part of the fam tour experience designed to immerse site location professionals in all things Cabarrus County, which, of course, included several stops at the International Business Park at Concord.
During the PreGel visit, Controller Rusty Chapman gave an overview of PreGel's history in the park, noting the location was chosen for its potential for future expansion, close proximity to the Charleston seaport and availability of grants and city and county tax breaks.
"If anyone is looking to build in this area, you've got a great team to work with," Chapman said of Cabarrus Economic Development, which hosted the fam tour.
Bryan Crutcher of CBRE noted the methodical and strategic growth at the IBP that allows companies to protect their infrastructure needs. "PreGel is a great example because they acquired additional land for future expansion," he said. "They got to Cabarrus County and liked the county; being located in the International Business Park helped them grow."