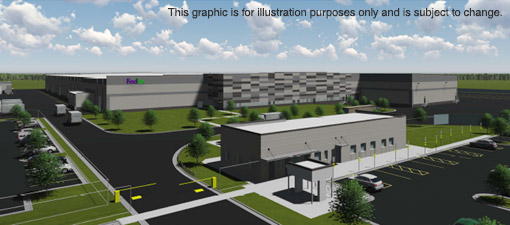 There will soon be a new tenant in the International Business Park as FedEx Ground Package System moves forward with plans to build a distribution facility and office near its SmartPost division, which is also housed in the park.
SunCap Property Group will develop the 343,000-square-foot building. The Concord City Council granted SunCap and FedEx Ground Package System an 85-percent rebate of the new site's local property taxes over the next three years.
According to a recent Charlotte Business Journal article, the combined FedEx distribution campus will represent a $107 million investment. Media reports also indicate FedEx projects to hire 55 full-time employees and 309 part-time employees within five years at the new facility.
Local leaders are excited about the positive impact the International Business Park has on Cabarrus County. Terry Crawford, interim president and CEO of the Cabarrus Regional Chamber of Commerce, told Time Warner Cable News, "I've just watched it in these last two or three years mushroom, and it's just going to continue to grow. And this is a big part of that and another element that will add to that growth."